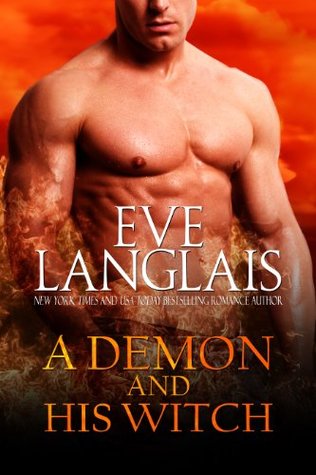 My rating: 5 of 5 stars
I totally enjoyed this, especially since it is the first time I have read this author and found such a great series that now I must continue it. The humor is marvelous and had me laughing out loud in places, while the heat level made me feel all gooey in others. I fell in love with the characters from the beginning because they were so well drawn from the time you met them to the end. The way the characters interact with each other is great as well as the story they are telling along the way. The way Hell is described here does not make it seem like such a bad place to be and Lucifer seems like just another annoying boss and dictator who has his own issues.
Ysabel was burned as a witch by her boyfriends mother 500 years ago. She was a witch and everyone in the village knew it but turned on her when it suited them. She got her revenge however by making a deal that made the deaths of those who had wronged her not their final agony. Remy is a hunky half demon who is a soldier in Lucifer's army and a serious lady's man who goes through women like tissue. These two would seem like the most unlikely pair of any.
When souls escape and imperil Ysabel's retirement as Lucifer's assistant things get serious. Ysabel is teamed with Remy to hunt the souls and is tempted to break her own rule of no physical contact with men. Hopefully they will not kill each other before they can get the souls returned to their prison.
This is just one great read that I want to share with anyone who has not tried it. I think you would be hooked.
"Lucifer snapped his fingers and froze them. He didn't really care what they did to each other, but he'd spent several months in the wild capturing the beast he'd turned into a desk. "Children, children," he said tucking his hands behind his back and adopting his father figure mode. It usually made his daughter, Muriel, laugh. "Must I remind you that I tasked you with a mission. One that I might add, Ysabel, you should be most eager to complete. What I do not need, is for you to FUCK IT UP!" He let his voice increase in treble until it boomed. "I've been more than tolerant, but enough is enough. You will cease bringing me your petty squabbles. You will do the job I assigned. And if you don't want his tongue in your mouth, Ysabel, then bite it off. Although, really, if you enjoyed it so much, I don't see what the problem is. Maybe he can help you remove the stick up your ass if you let him kiss the other end. Now, if we're done here, and since I'm boss, and I say we are, leave and don't come back until you're done, because if you do, I'm duct taping the pair of you together and throwing you in a dark room until you learn to get along. Or fuck. I don't really care which, but I prefer the latter so I can watch."

―

Eve Langlais

,

A Demon and His Witch