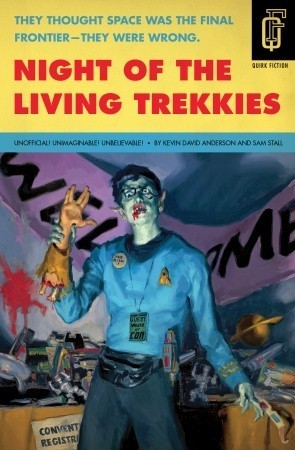 Night Of The Living Trekkies
My rating: 4 of 5 stars
Being a major Star Trek fan I had to get this book as soon as I saw it. This was a really fun novel as far as I am concerned. The writing was great and made good use of the world of Star Trek and its characters as well as those from Star Wars ( Personally I don't think there would have been a Star Wars if not for Star Trek to lead the way). There were what I believe were a few nods, though I could be wrong, to characters from the show. The characters for the most part were interesting and felt fleshed out enough that you were invested in whether or not they survived.
Jim Pike (James T. Kirk and Christopher Pike)had been a fan of Star Trek when he was younger, but after his tour of duty in Afghanistan and the loss of his squad he no longer wishes to indulge in that fantasy world. He is working at the hotel which is hosting The Gulf Con for Trekkie's, an exclusive convention for Star Trek fans only. He just wants to get through it with minimal fuss. The best thing about the whole thing is that his sister is attending with some friends and plans to spend some time with her big brother.
They are not far from Johnson Space Center and the secrets that it houses which could cause the destruction of all mankind. There are many Star Trek fans working there and they manage to bring something to the convention that stops it before it going. A zombie virus is unleashed and all those people who wanted to boldly go end up gone and back to munch on their crews.
It did take me a few chapters in to really get into it but I was going to finish no matter what just because it combined two of my favorite things, Star Trek and zombies. This has a bit more of twist than just throwing zombies into the mix with our Trekkie and it was a pretty good one that caught me a little off guard. If you want something that will make you smile, make you laugh, and gross you out a bit, then this is for you.