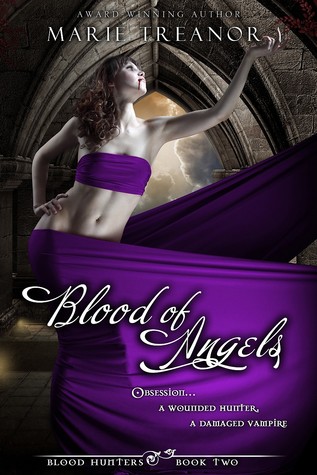 My rating: 4 of 5 stars
While I enjoyed the first book more this one was still enjoyable enough to make me want to continue the series. The characters, some of whom were introduced in the first book, get expanded on so that they take on a new dimension. I was drawn in more quickly this time because I was familiar with who they were and what was going on with the mains. The setting is maybe not exotic but it is very different and makes the players more interesting because of their location. The language works for the vampires and the humans as they banter.
Eighteen months ago István went to the Angel and got on the bad side of its owner Angyalka, who just happens to be a vampire, when he and a group of hunters went there trying to capture Saloman. Not long after this fiasco István was very badly injured in a fight at the hunter library which left him semi paralyzed with little hope. But he and his fellow hunters were saved by Saloman and so began their alliance with the enemy. He has recovered and is now on his feet once again and creating his electronic marvels again.
István returns to the Angel supposedly to research how to store psychic energy. He believes that Angyalka can help him with this even though she is not very old but appears to be very powerful. Angyalka has not forgotten the hunter who humiliated her in front of her patrons and is looking for some payback. What they find is that two people can sometimes come together over their mutual short comings even when they fight it.
I like the idea behind an alliance between vampires and those who have traditionally hunted them. You get to see both sides, those who are for cooperation and those who would like to see a war between them. The two sides are going to be clashing more and more as things progress. This was just a taste of how the sides can get along if they stop seeing each other as so different. The sex is hot but not over the top and appropriate for what is going on. I would recommend.