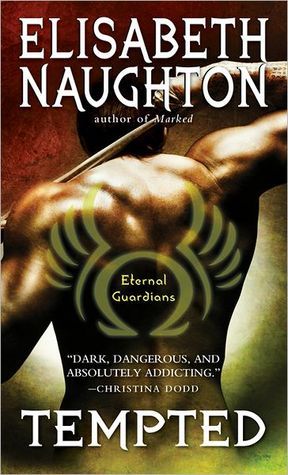 This was another great book in this series. I always like the guardians and the fact that you get a look into the mythology that it is based on. The characters are all very tortured in one way or another whether they deserve to be or not, this just makes them seem more human. The story moves along at the perfect pace allowing for changes in venue and character as they fill us in on what is happening. The language never fails to entertain with words that seem to be pulled out of the past. I was pulled in and not allowed to stop except for those emotional moments I could not help it.
Isadora is a princess who always finds herself in trouble. She has been kidnapped and is about to be sent to the enemy, Atalanta, for what she is not sure. The witches, one of whom is her handmaiden, have given her a potion so she can be taken a man she does not want. Their plans are thwarted when the guardians, including Demetrius, arrive to rescue her and are met with serious resistance. When Demetrius takes her and Gryphon through a portal they end up in the last place they should and find themselves taken captive by Atalanta.
Demetrius has been hateful to Isadora all of her life but the person he truly hates is himself. Demetrius has been hard on himself for something that he could not change anymore than anyone could their origin.
I am so into these stories because I feel so deeply about the characters. These stories have intrigue, romance, hatred, myth, warriors, damsels in distress, and heroes galore. Definitely give it a try.
My rating: 5 of 5 stars
"Maybe," she said softly, hoping to bridge it herself, just a touch, "maybe one day I can return the favor." "You can't save me," he whispered. "Why not?" "Because some things aren't worth the effort." Her heart went out to him right then and there. As firelight flickered over his chiseled features, she saw secrets brewing in his eyes. Secrets that fed something dark in his past that kept him closed off from the world. For years she'd thought he didn't have a soul, but as she stared into his eyes now, she knew she'd been wrong. He hurt, just as she did. And he longed, the same as she. While she'd curled into herself over the years, letting her father and everyone else make her decisions for her, he'd gone the other way, pushing every single person away until they all thought he was nothing but a cold, evil shell. How wrong she'd been. How utterly hateful and horrid she'd been to him. As they stared at each other, she didn't see him as an Argonaut. Didn't see him as a fighter or even a hero, really. She saw him as a man. With the same humanity the gods both hated and envied. With the same frailties and faults she possessed. She moved into him fast, burying her cheek against his chest and wrapping one arm around his waist while the other held the blanket closed at her front. He sucked in a surprised breath, but she didn't let go. Against her skin he was alive and warm, and her body jumped to life everywhere they touched."

―

Elisabeth Naughton

,

Tempted